The Indian Ocean Tsunami
2018-10-11 14:08:56
The Indian Ocean Tsunami

• Year: 2004
• Areas affected: Parts of southern India and Andaman Nicobar Islands,
Sri Lanka, Indonesia etc.
• Death toll: 2 lakh plus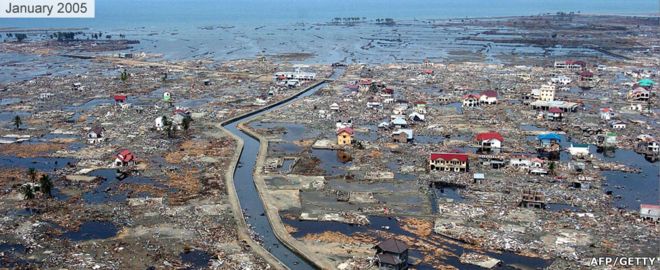 Following a major earthquake in 2004, there was a huge tsunami in the
Indian Ocean, causing immense loss of life and property in India and
the neighbouring countries – Sri Lanka and Indonesia. The earthquake
had its epicenter in the ocean bed which led to this destructive
tsunami. The magnitude was measured between 9.1 and 9.3 and it lasted
for almost 10 minutes. According to reports, it was the third largest
earthquake in the world ever recorded. The impact was equivalent to
the energy of 23,000 Hiroshima-type atomic bombs. More than 2 lakh
people were killed.
The Indian Ocean Tsunami
comments (Only registered users can comment)